Eleglide D1 Electric Scooter
Regular price

€579,00 EUR

Regular price

€695,00 EUR

Sale price

€579,00 EUR

Unit price

per

Sale

Sold out
Rated 4.8
on Trustpilot
Share
FEATURES

SPECIFICATIONS

FAQ's

POGOCYCLES PROMISE
Highlights

500W Superior Motor
Equipped with a 500W superior motor, our scooter has a maximum output torque of 29N.m, providing you with enough power to move forward on smooth or bumpy roads or even on a beach.
70km Max Range
Having an 864Wh battery capacity, our electric scooter can go for up to 70km, equal to the distance between Berlin and Potsdam, which can meet your demands for riding. You can give it a try if you have one.
Full Suspension System
Shock absorption design is essential for off-road scooters for a more comfortable riding experience. Eleglide D1 is improved with front and rear shock absorption devices to ensure great stability and comfortability.
Dual Braking System for Stronger Protection
Eleglide D1 comes with front and rear disc brakes for upgraded protection. You can stop the scooter instantly and safely by hitting the brake levers that can cut off the power immediately and get the disc brakes to work instantly.
10" Off-road Pneumatic Tires
Compared with traditional 8" tires, our 10" off-road pneumatic tires can adapt to more different road surfaces. No matter how bumpy and rough the road is, our unique scooter tires can always keep your ride at a smooth and steady movement even at a high speed.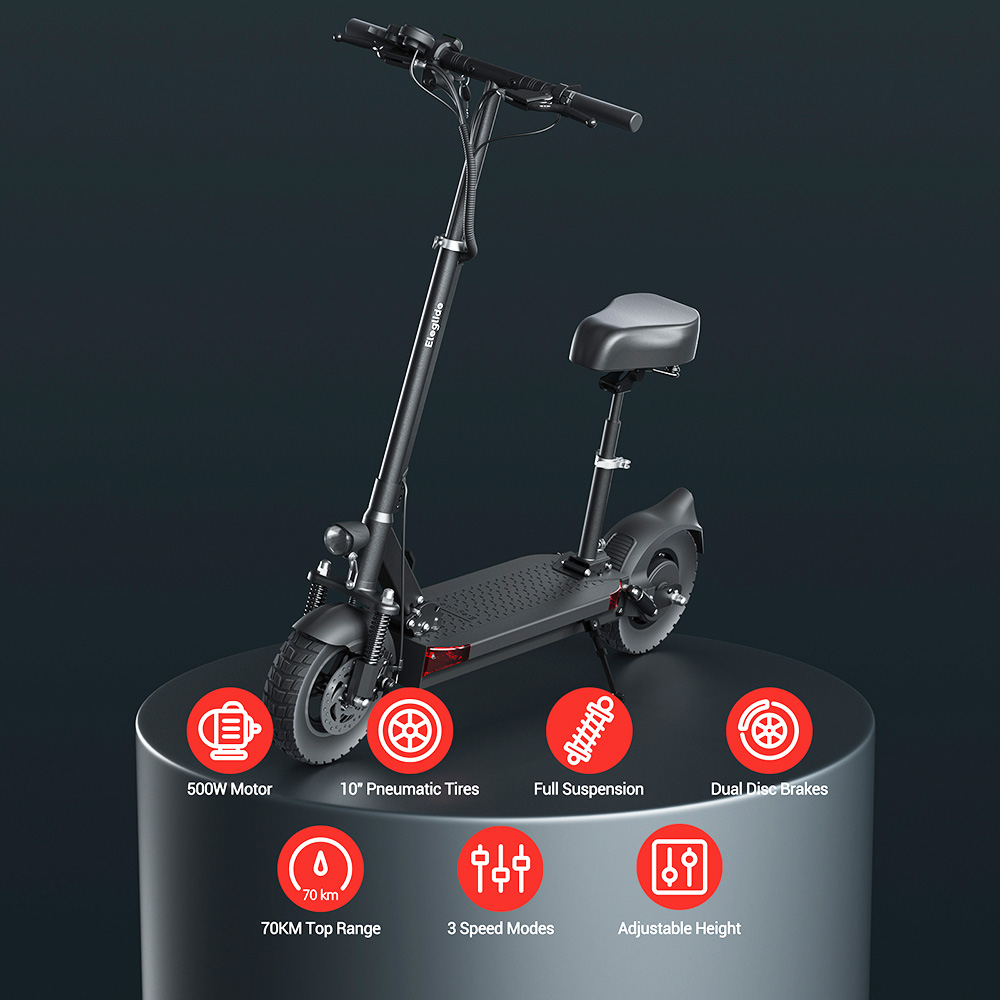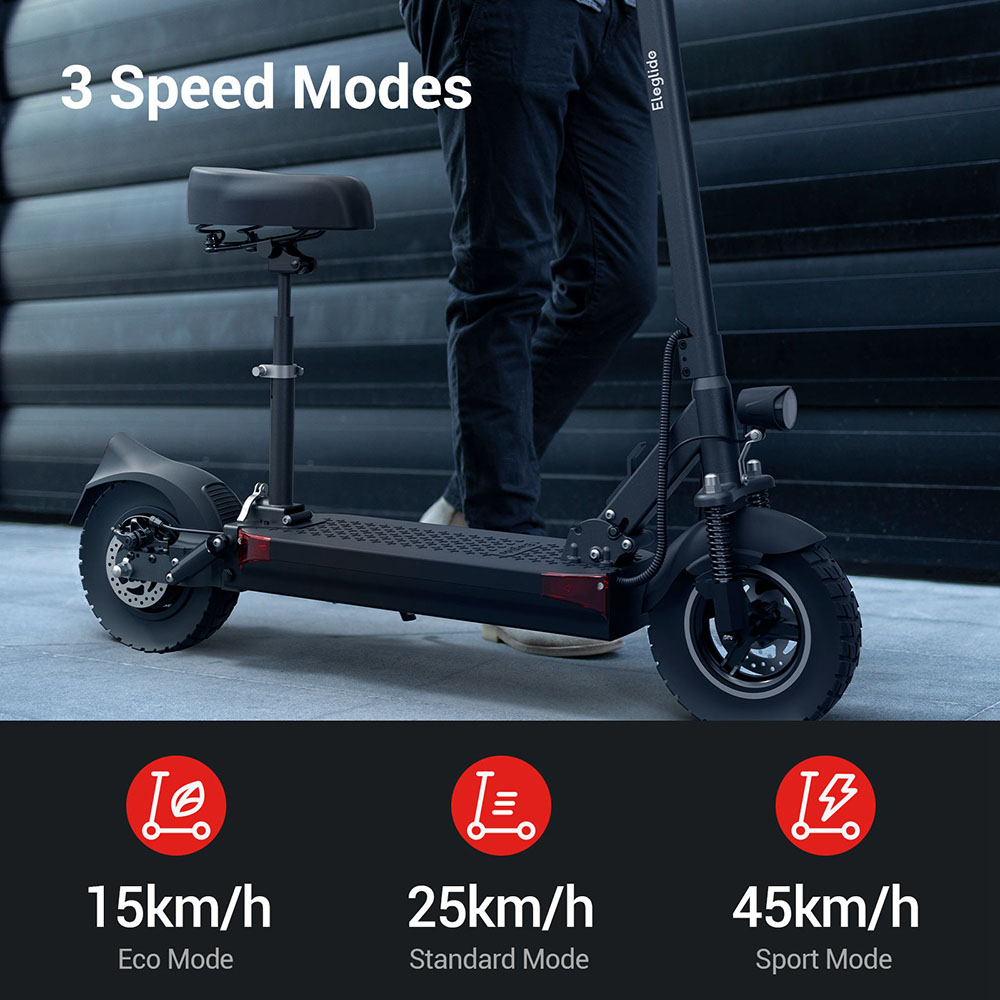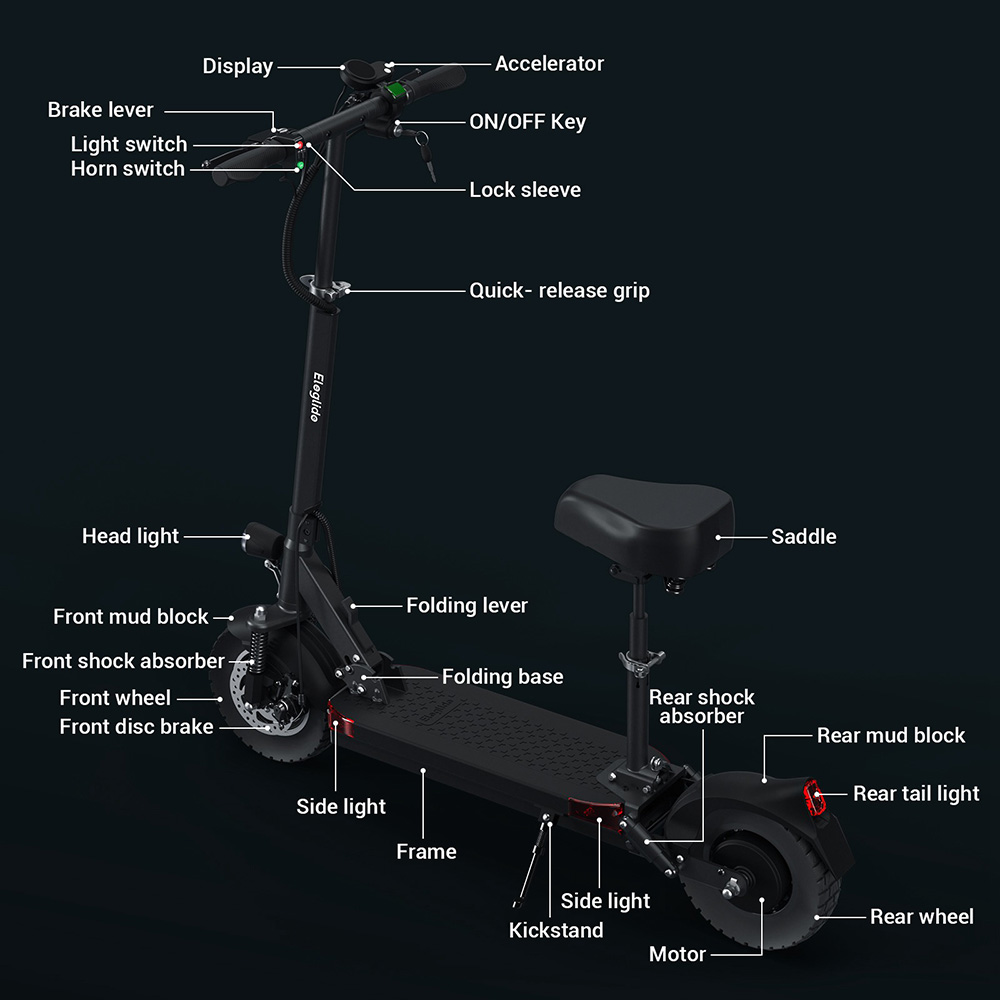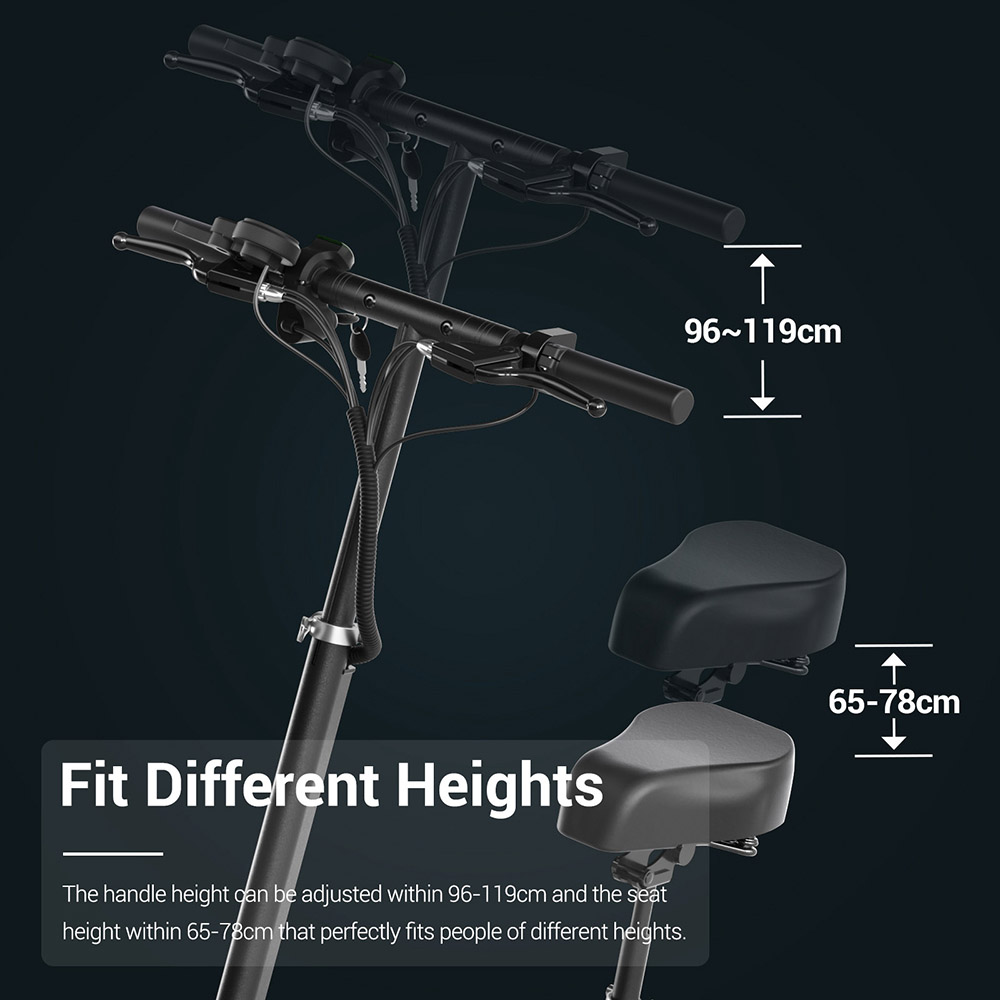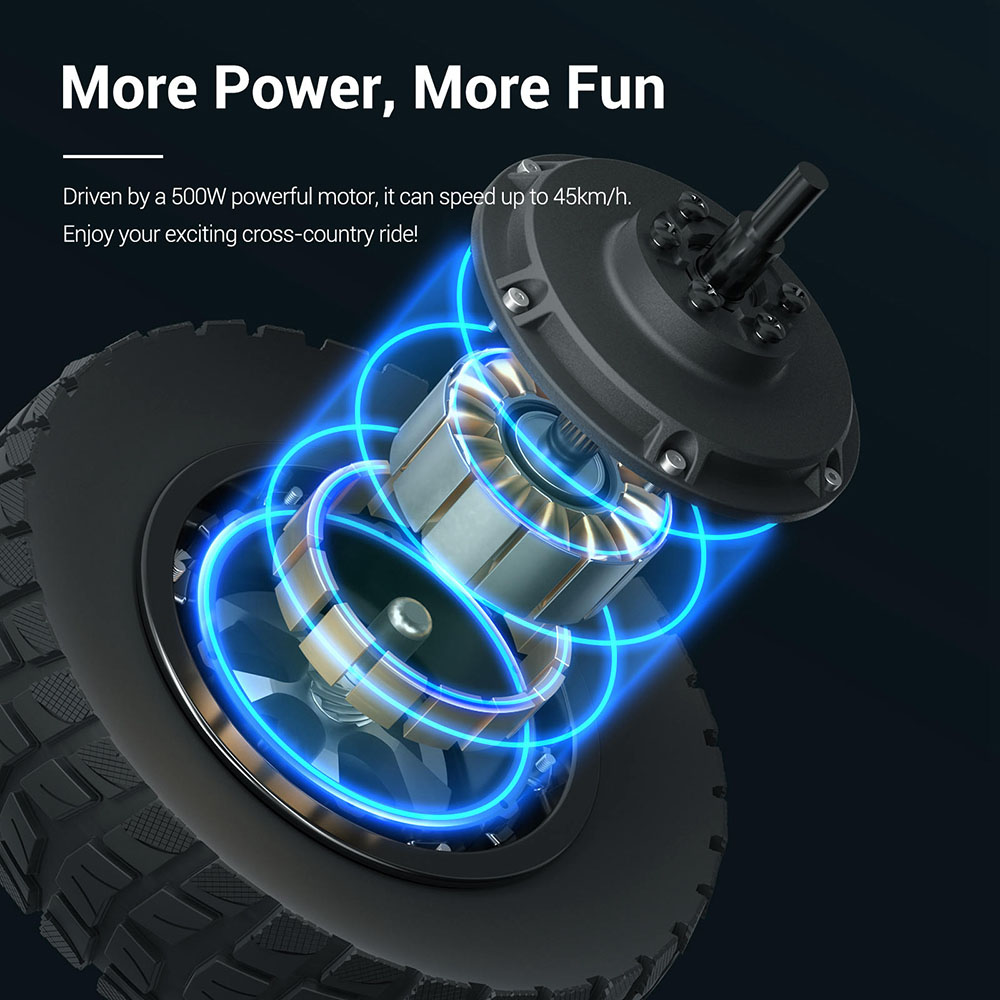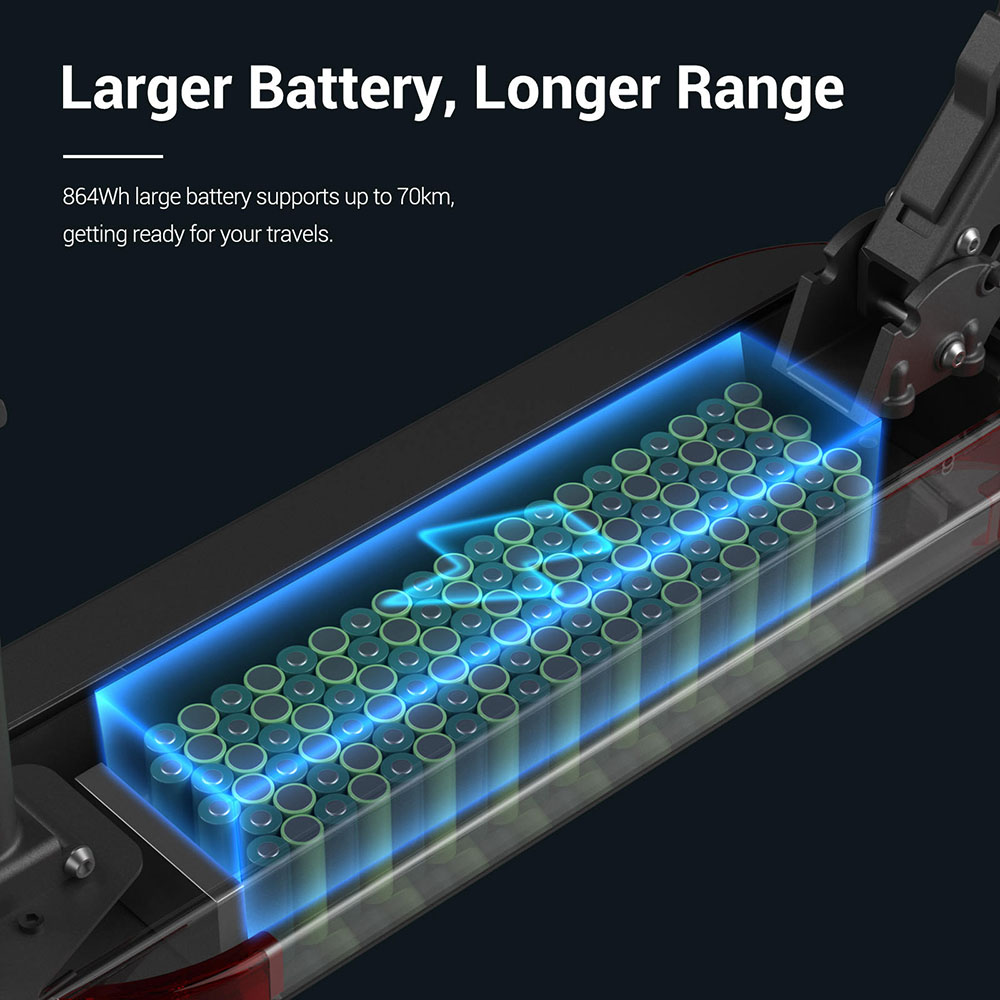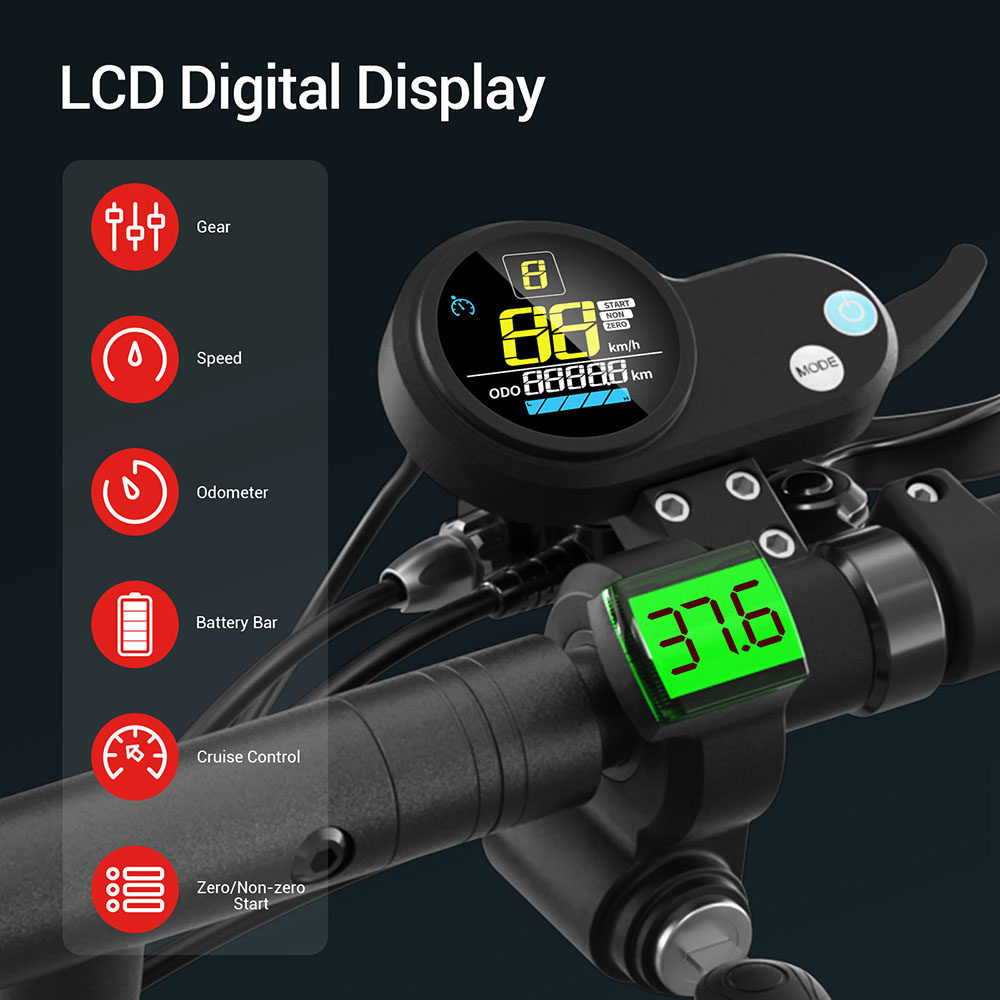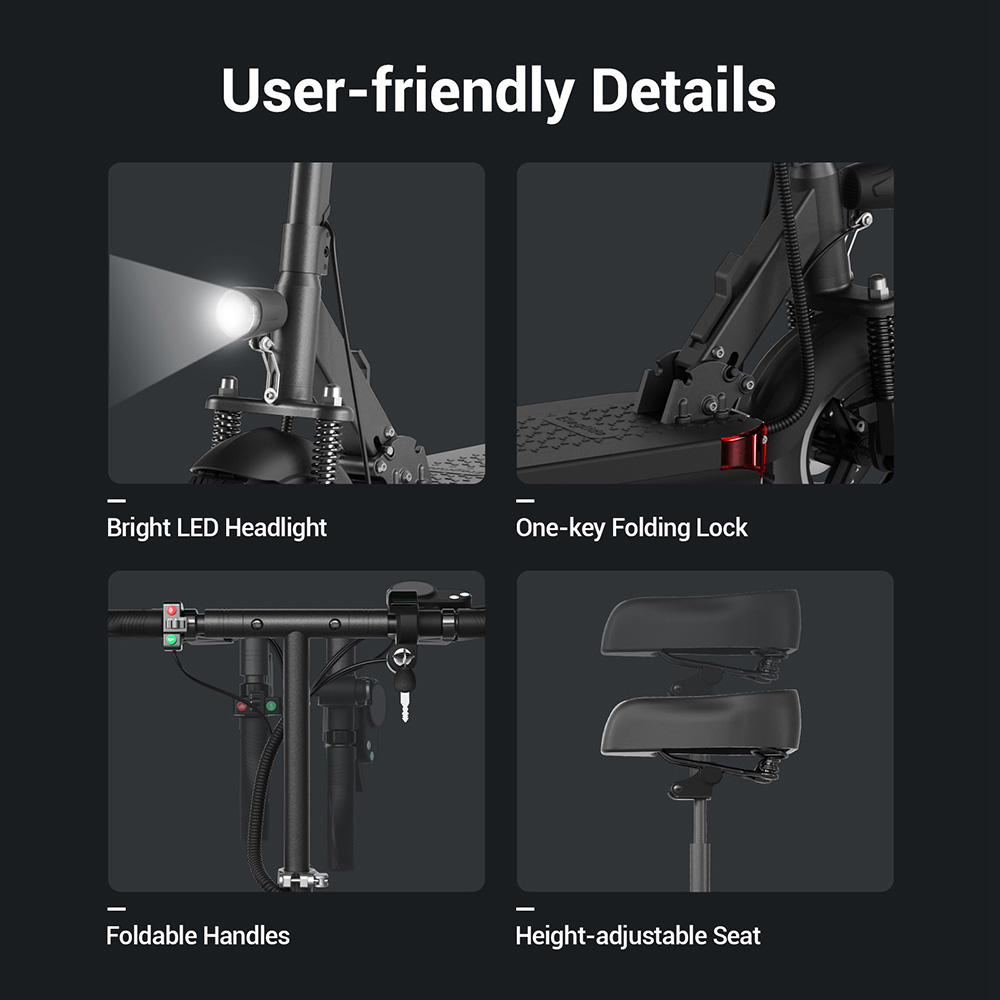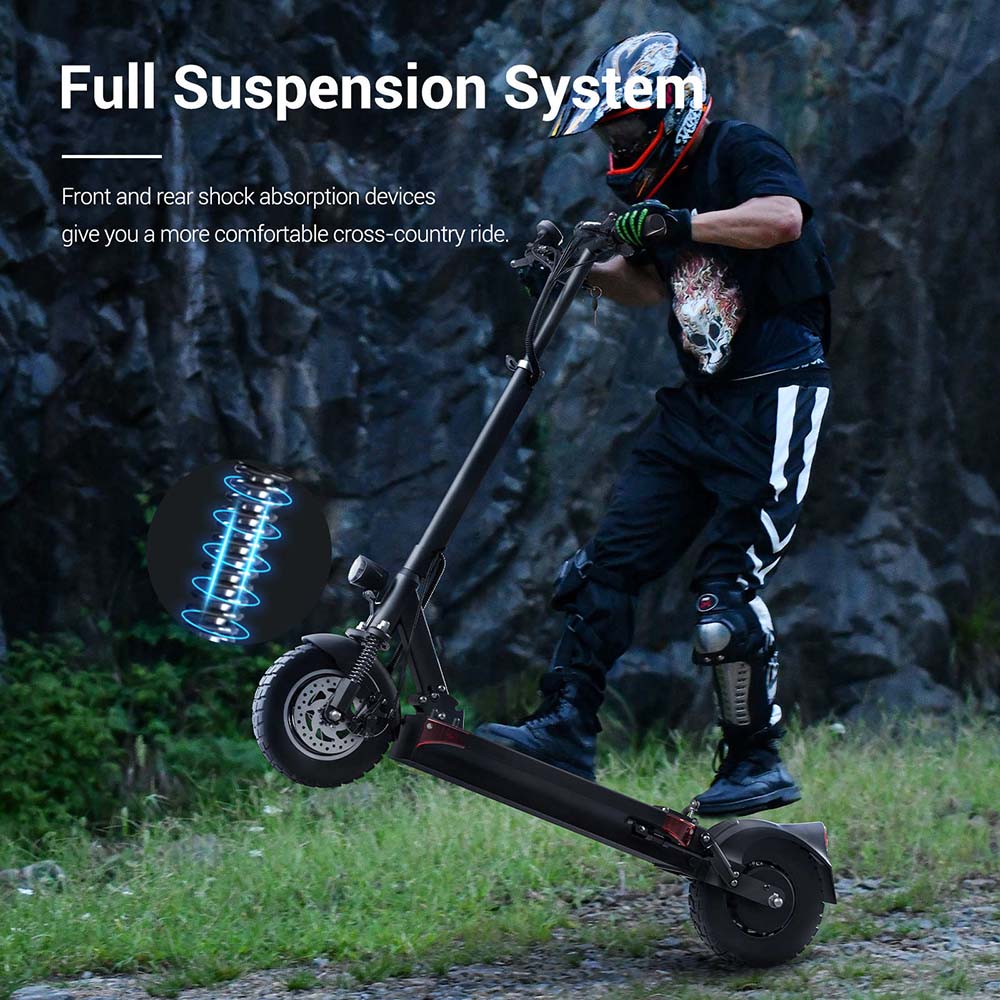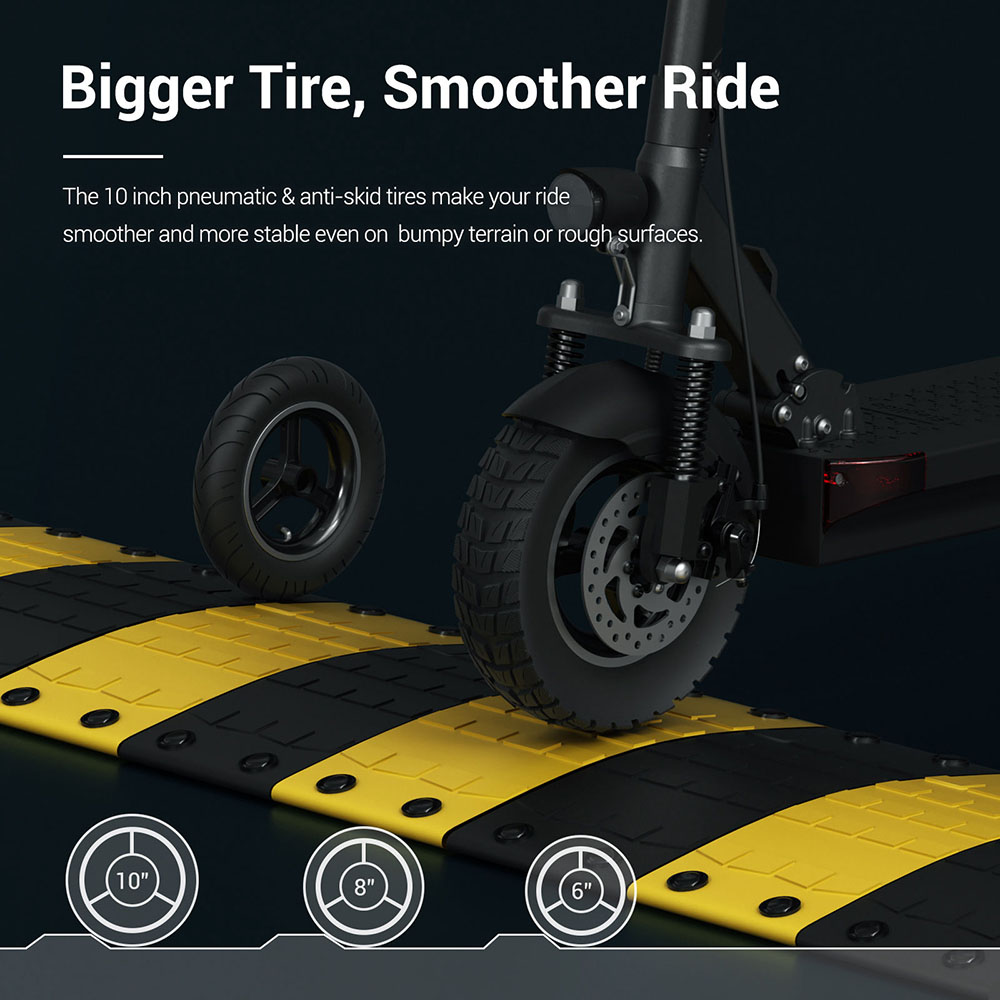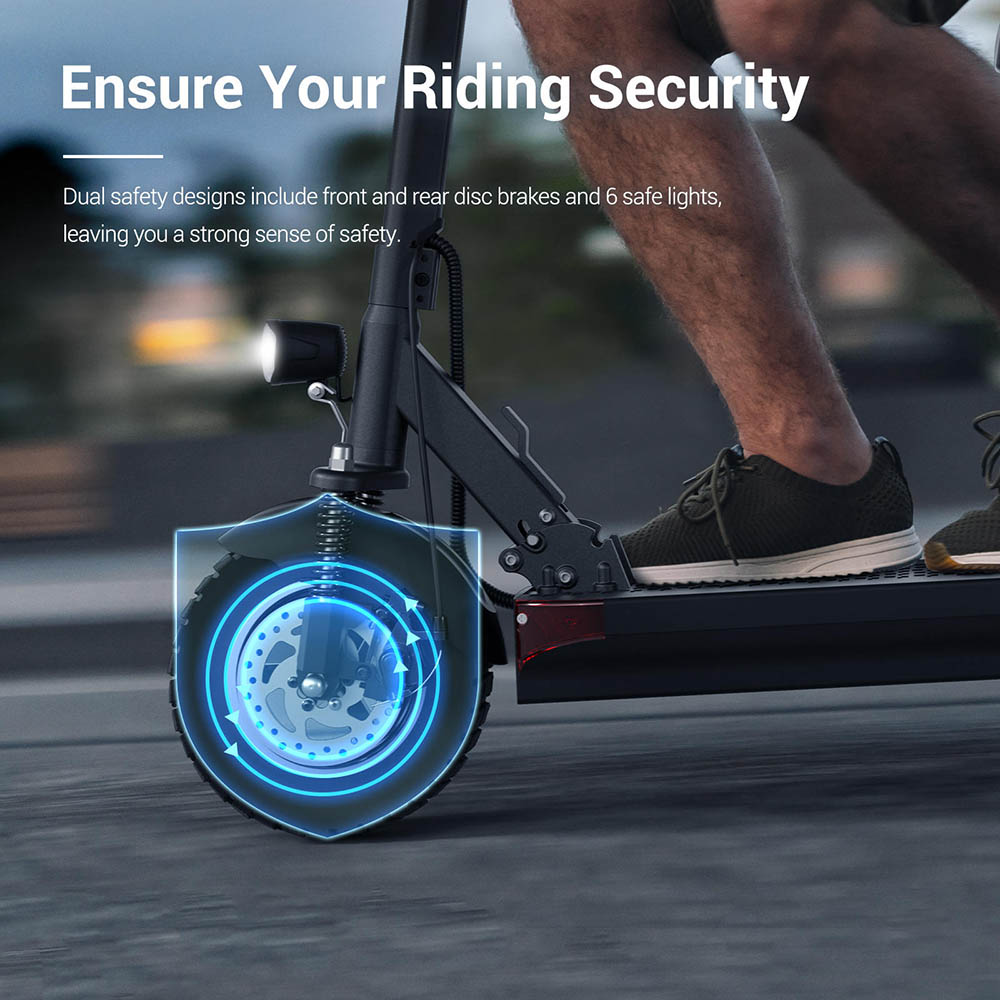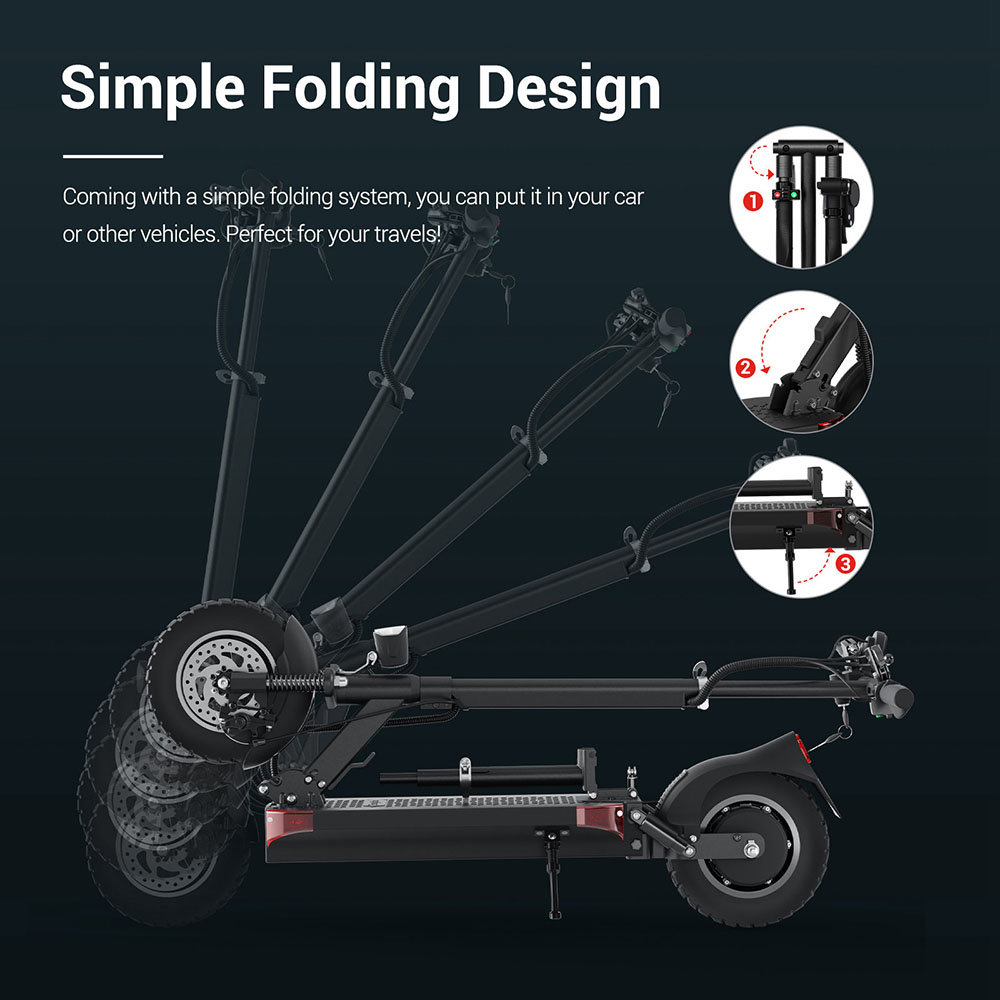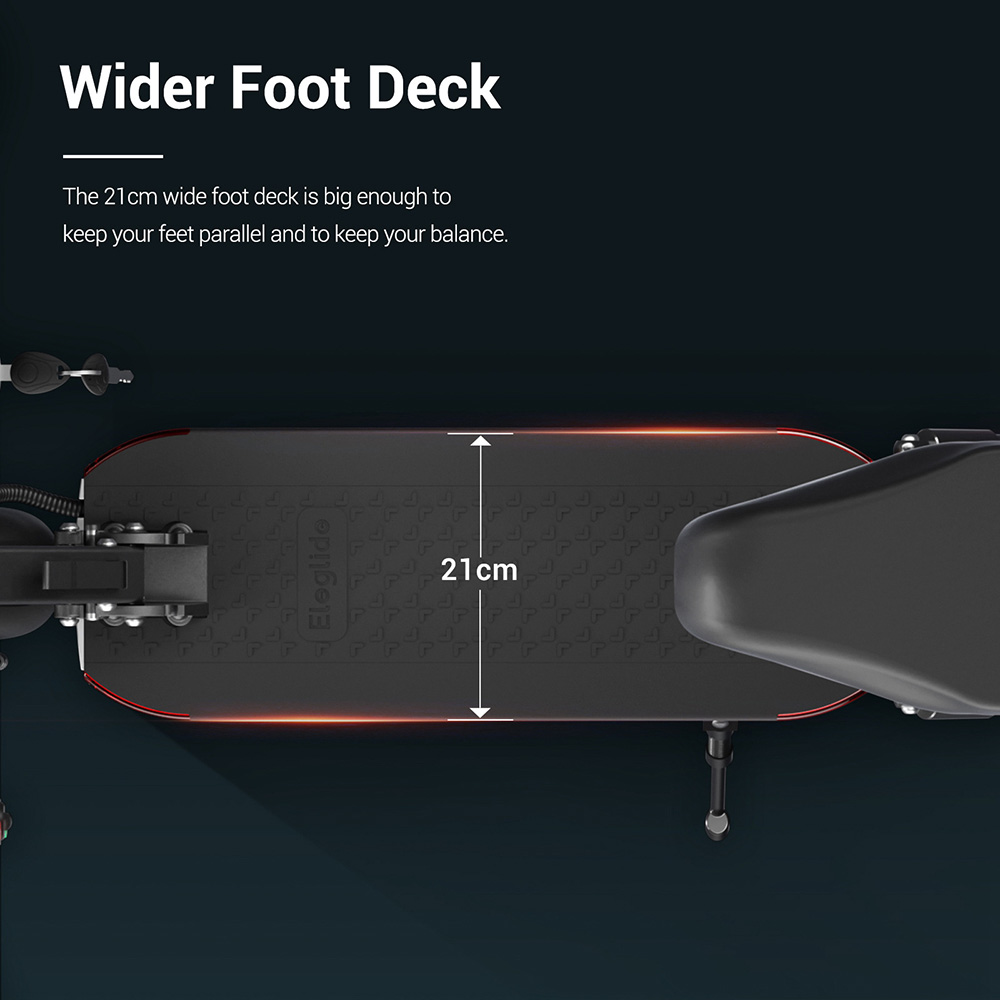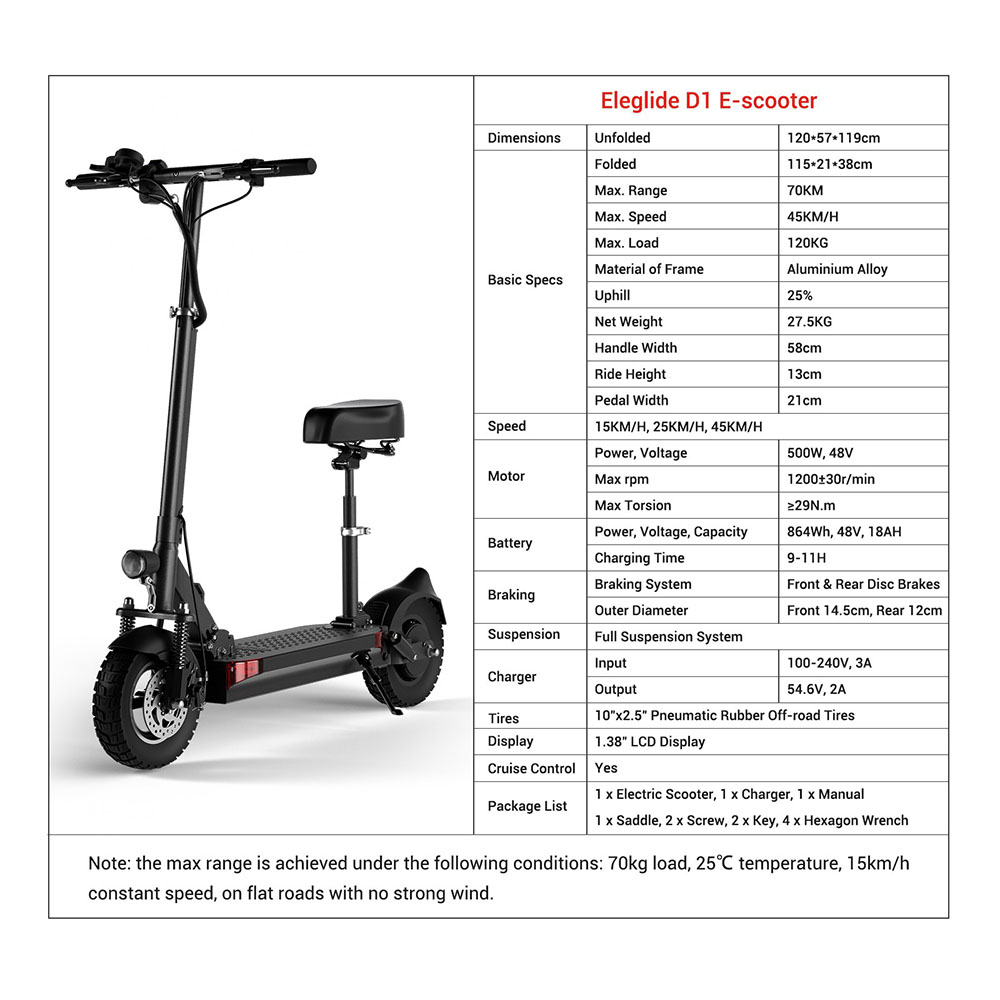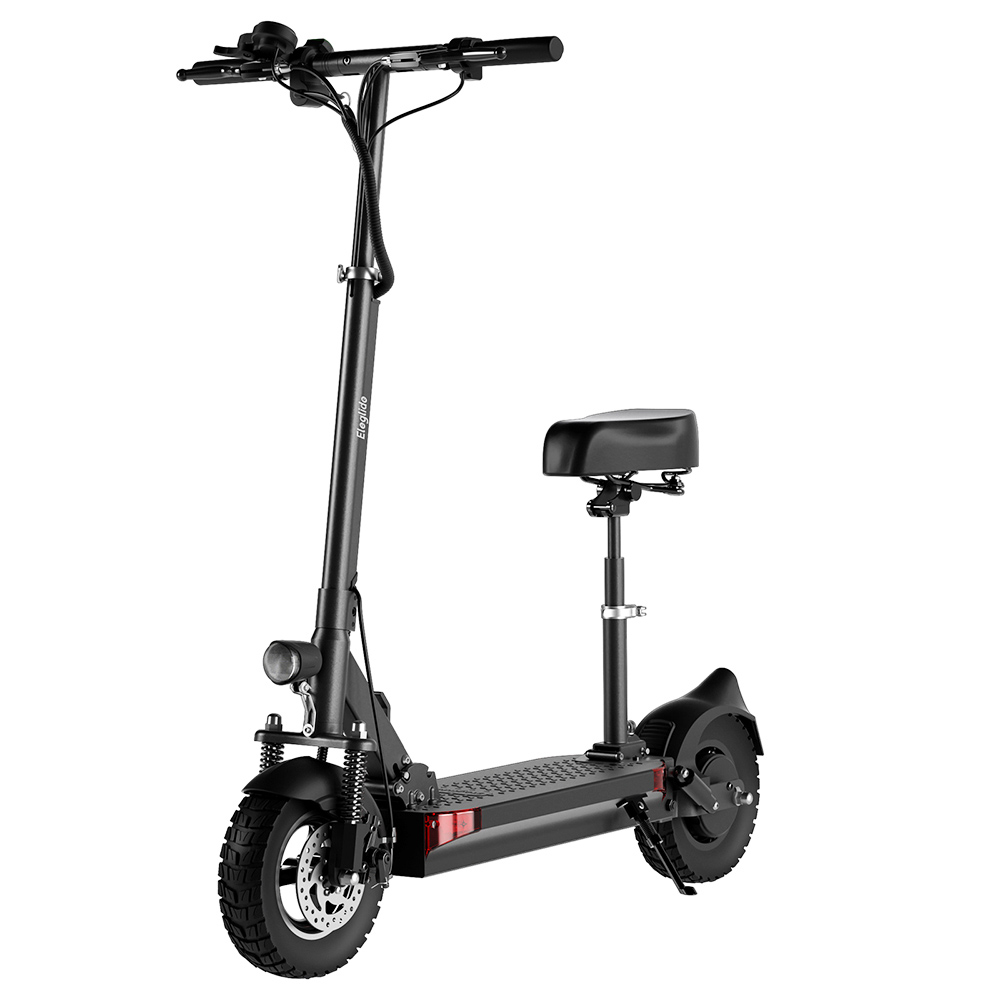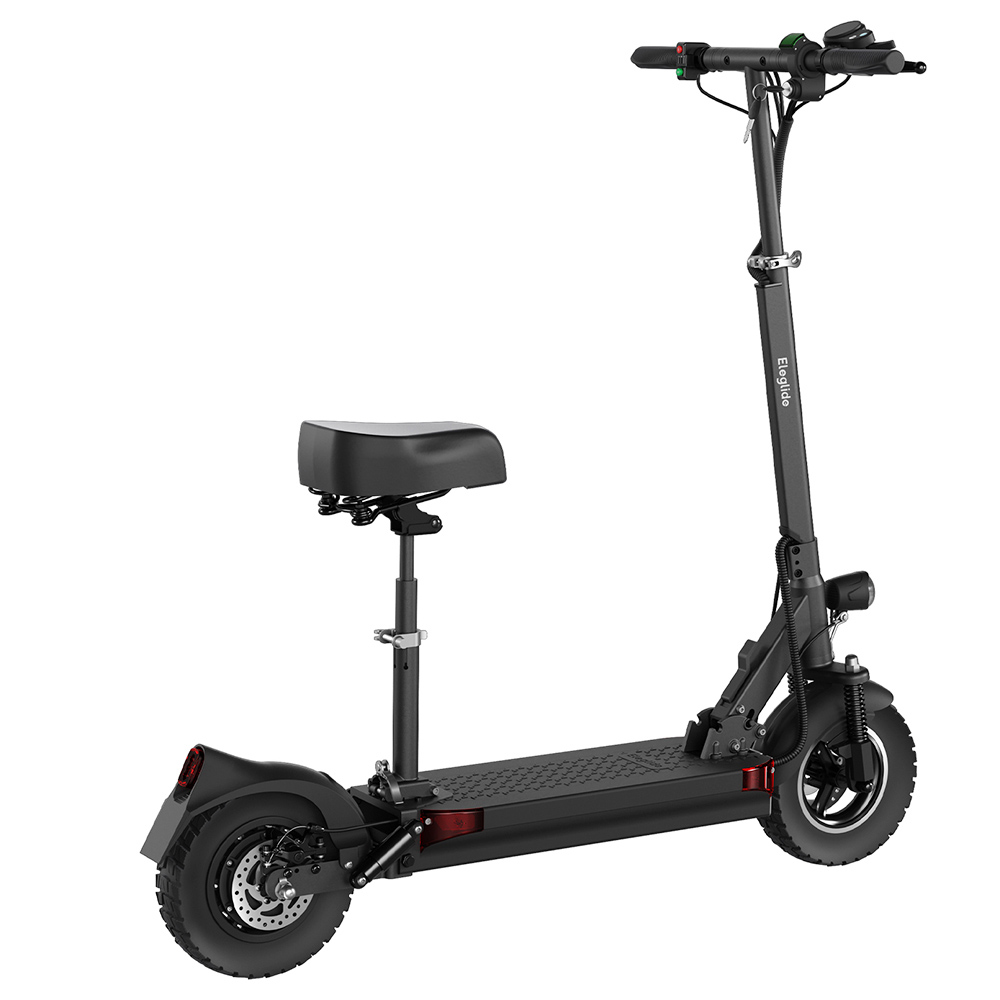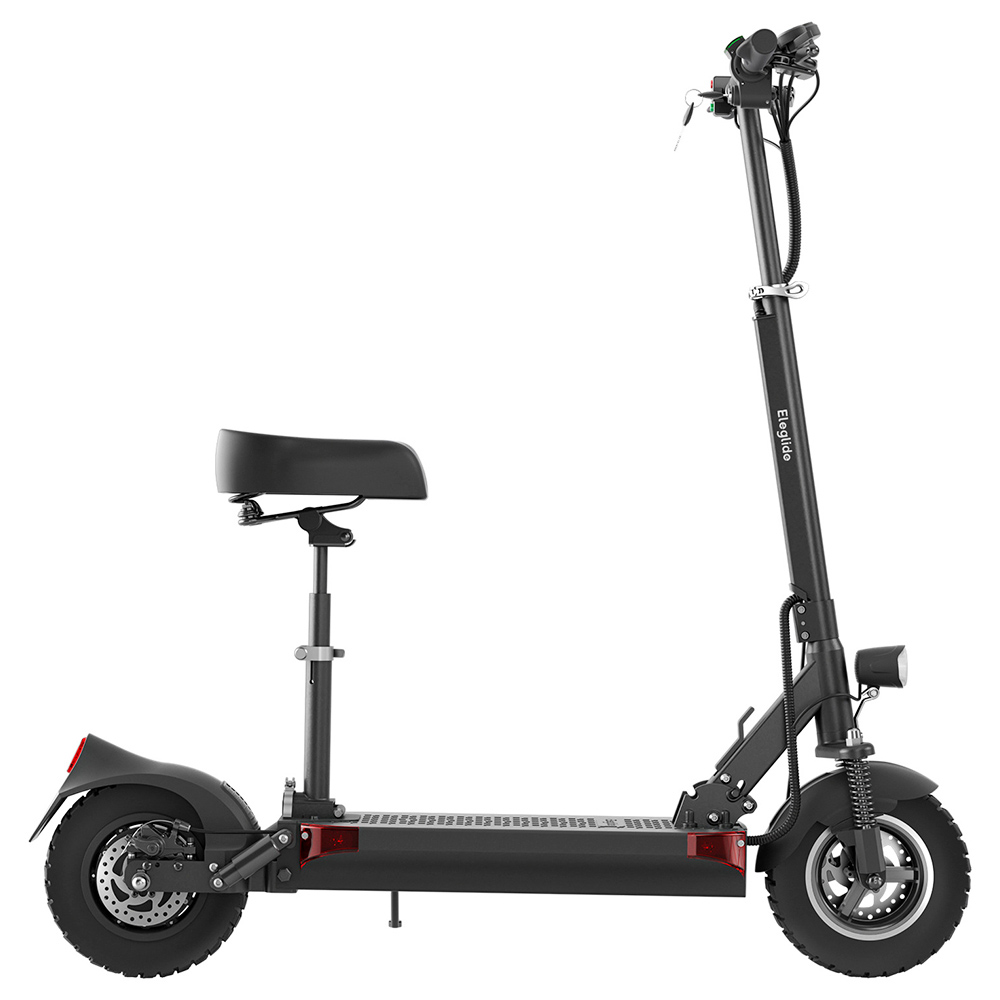 General

Brand: Eleglide
Model: D1 
Type: Electric Scooter
Color: Black

Product Details

Max. Range: 70KM
Max. Speed: 45KM/H
Max. Load: 120KG
Material of Frame: Aluminium Alloy
Uphill: 25-degree
Handle Width: 58cm
Ride Height: 13cm
Pedal Width: 21cm
Speed: Eco Mode: 15KM/H; Standard Mode: 25KM/H; Sport Mode: 45KM/H
Motor
Power: 500W
Voltage: 48V
Max rpm: 1200±30r/min
Max Torsion: ≥29N.m
Battery
Capacity: 18Ah
Voltage: 48V
Power: 864Wh
Charging Time: 9-11H
Braking
Braking System: Front & Rear Disc Brakes + Power Brake
Braking Distance: 8M
Charger
Input Voltage: 100-240V
Input Current: 2.8A
Tire
Size: 10*2.5
Type: Pneumatic Tire
LED Headlight
Power: 2.4W
Beam Angle: 80-degree
Beam Area: 10 Square meter
Display
Type: LCD
Size: 1.38"

Dimensions&Weight

Overall Dimension: 120*57*119cm(Unfolded); 115*21*38cm(Folded)
Net Weight: 27.5KG

Package Contains

1 x Charger
1 x Manual
4 x Hex Wrenches
1 x Seat
Can your e-scooter be folded?
The Eleglide scooters can be folded. The folding process can be easily done in 5 seconds.
Can the battery be dismantled?
Yes. But we suggest you don't dismantle it until you need a new replacement. And we have replacement batteries for sale. You can buy one from our online shops or any of the official distributors.
What information is shown on the dashboard?
The information shown on the dashboard includes speed, gear, odometer, battery bar, cruise control mark, error code and zero/non-zero start.
Can I ride my Eleglide scooter in the cold weather?
Riding in low temperatures can affect the performance of the scooter. When used at room temperature 25℃, the battery range and performance are at their best; whereas using it at temperatures below 0℃ can decrease its range and performance. Typically, at -5℃, the range can be half that of the same battery at 25℃. Battery range will recover when temperature rises. Charge the battery after each ride and avoid draining the battery completely. And it is important to store the scooter in a cool and dry indoor place when you're not using it.
Can electric scooters be used in the rainy day?
Eleglide scooters are all at IPX4 waterproof level. Riding on a drizzling day for a short while is acceptable. But riding it on rainy days for a long time is not suggested. If an e-scooter gets soaked, the battery will probably be damaged. Thus, we suggest you try not to use e-scooters on rainy days.
How can I clean my Eleglide scooter?
We suggest you use a soft and wet cloth to wipe the mainframe clean. Dirt hard to remove can be scrubbed with a toothbrush and toothpaste, then cleaned with a soft and wet cloth. Do not wash your e-scooter with alcohol, gasoline, acetone, or other corrosive/volatile solvents. These substances may damage the appearance and internal structure of your e-scooter. Do not wash your e-scooter with a power washer or hose.
How do you brake? How many braking modes are on this electric scooter?
Eleglide e-scooters are all equipped with a disc braking system. The scooters can be stopped by holding their brake levers that trigger the disc brakes.
| | |
| --- | --- |
| Model | Braking System |
| S1 | Rear Disc Brake |
| S1 Plus | Rear Disc Brake |
| D1 | Front & Rear Disc Brakes |
| D1 Master | Front & Rear Disc Brakes |
How much is the payload of MAX? Can people overweight ride it?
The maximum payload is 120KG (264lbs). People weighing over 120KG (264lbs) will not be recommended.
Is the scooter height adjustable?
Yes. ELEGLIDE e-scooters all have adjustable heights, and the D1 model also has a height-adjustable seat that can be adjusted with 65-78cm.
| | |
| --- | --- |
| Model | Adjustable Height |
| S1 | 94-118cm |
| S1 Plus | 94-118cm |
| D1 | 96-119cm |
| D1 Master | 96-119cm |
Can I go uphill more than 20%?
For your safety concern, Eleglide S1 and S1 Plus are not suggested to go uphill over 20%. But Eleglide D1 and D1 Master can go uphill more than 20%.
| | |
| --- | --- |
| Model | Uphill |
| S1 | 20% |
| S1 Plus | 20% |
| D1 | 25% |
| D1 Master | 30% |
How to charge my e-scooter?
You can charge your e-scooter by plugging in the charger unit and connecting the charger to a standard wall outlet.
What type of battery does Eleglide e-scooter use? How long is the battery life? How long will it take fully charged? How long does full battery last, riding?
Eleglide e-scooters all use 18650 lithium-ion batteries that can live for 300-500 cycles. Normally, a fully charged battery should retain power for 60-120days. A low-power battery should retain power for 30–60 days. Remember to charge the battery after each use. Completely draining the battery may cause permanent damage to the battery.
| | |
| --- | --- |
| Model | Charging Time |
| S1 | 3-4H |
| S1 Plus | 6-7H |
| D1 | 9-11H |
| D1 Master | 10-12H |
Where to get my e-scooter fixed if I live in Europe?
Hi there. We have a professional after-sales service team that can offer you solutions anytime and local maintenance service teams in Europe that can help to fix your e-scooter problems. For more information please contact our customer service email: support@eleglide.com
🚚 Shipping - Free shipping on all orders to anywhere in Europe. 7-15 business days delivery time.
💝 Return & Refund Guarantee - 30 Days Hassle Free Returns & 12 Months Warranty. Please refer to t&C
📞 Customer Support - Please email us at support@pogocycles.com. Our support team replys within 8 hours.
Disclaimer:- Its completely legal to buy, sell and own an e-scooter in Ireland. At the moment, privately-owned electric scooters are illegal to use on the public highway in Ireland & the UK. However they can be ridden on private land.
Update:19th october :-legislation has been approved by Cabinet and is sent to Oireachtas for approval of scooters on Irish roads
STRONGLY RECOMMENDED- hassle-free WARRANTY Repair at our partner workshop in DUBLIN

€29,99

42410288775400